IANS
Kannur International Airport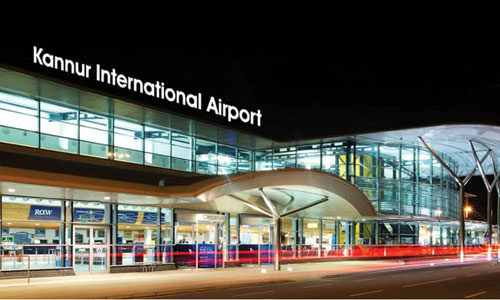 Kerala's fourth international airport at Kannur is slated to open on December 9 following an approval by the Director General of Civil Aviation (DGCA), a top official said here on Friday.
Kannur International Airport Ltd (KIAL) Managing Director, V. Thulasidas confirmed the launched date, saying that "we are ready for operations".
KIAL authorities are trying their best to see that commercial operations commence soon after the inauguration, but the Airport Authority of India will be deciding on that.
Already 11 international carriers and six domestic operators have confirmed their decision to fly into KIAL.
The first trial operations were undertaken successfully at the aiport on September 20 and a repeat rehearsal the following day.
On Thursday, DGCA gave its final approval for the airport's opening.
The Rs 1,892 crores airport is located at Mattanur, near Kannur. It is spread over 2,000 acres of land.
With this, Kerala will be the only state in the country to have four international airports with the others at Thiruvananthapuram, Kochi and Kozhikode.
The swanky airport has 24 check-in and 32 immigration counters.
It will begin with a runway of 3,050 metres, increasing to 3,400 metres in 18 months and eventually to 4,000 metres.
The Central Industrial Security Force will be in charge of the airport's security operations.
The Kerala government has a 35 per cent stakes, 25 per cent by public sector undertakings, 10 per cent with the Airport Authority of India and the remaining 30 per cent with Cooperatives, banks and individual shareholders.
The first trial operation took place in February 2016 when an Indian Air Force aircraft landed at the airport and was received by the then Chief Minister Oommen Chandy.
According to studies, the airport will be able to handle 2,000 passengers at a time and it is anticipated that KIAL will serve more than 1.5 million international passengers annually besides.