New Delhi, 21st July 2022:
Har Ghar Tiranga Hoist a flag in your house from 13-15 August 2022
Har

Ghar

Tiranga

On August 15, 1947 at 10:30 am #India witnessed a historic moment the British flag was lowered by Louis Mountbatten, making way for the Indian National Flag!
#HarGharTiranga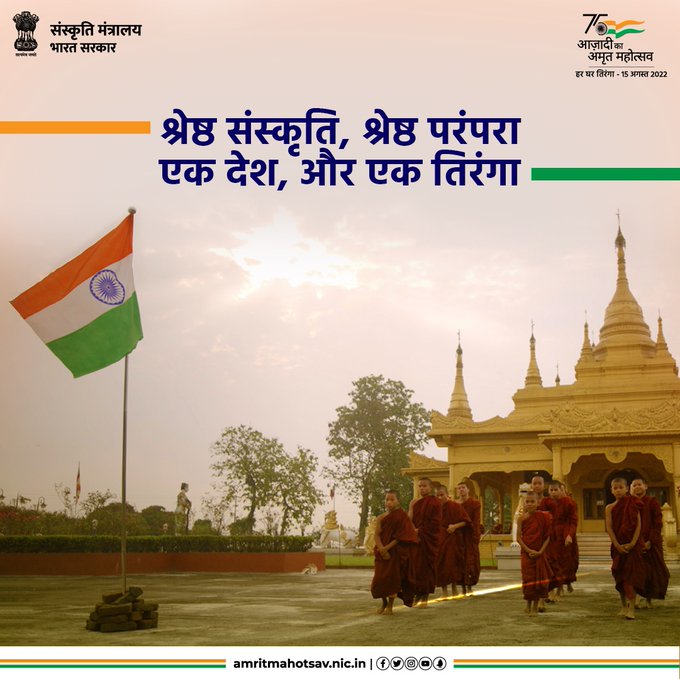 Hoist a flag in your house from
13-15 August 2022
Register your participation in the Amrit Mahotsav of Azadi running from August 13 to 15.
Offer your services in Mahasankalp with all the countrymen in every house #तिरंगा .
https://harghartiranga.com
#तिरंगा . https://harghartiranga.com #harghartriranga #Bharat #India
13 से 15 अगस्त तक चल रहे आजादी के अमृतमहोत्सव में अपनी भागीदारी दर्ज करें।। हर घर #तिरंगा में हमसभी देशवासियों के साथ महासंकल्प में अपनी सेवाएं अर्पित करे।। https://harghartiranga.com
---
13 से 15 अगस्त 2022 हर घर तिरंगा फहराएं #HarGharTiranga  @ashokgehlot51  @AshokChandnaINC
ಸ್ವಾತಂತ್ರ್ಯದ ಅಮೃತ ಮಹೋತ್ಸವದ ಹಿನ್ನೆಲೆಯಲ್ಲಿ ರಾಜ್ಯದಾದ್ಯಂತ ಆಗಸ್ಟ್‌ 13 ರಿಂದ 15 ರ ವರೆಗೆ ಹರ್‌ ಘರ್‌ ತಿರಂಗಾ ಕಾರ್ಯಕ್ರಮದ ಅಂಗವಾಗಿ 1 ಕೋಟಿ ಮನೆಗಳಲ್ಲಿ ರಾಷ್ಟ್ರಧ್ವಜ ಹಾರಿಸಲು ಸಜ್ಜಾಗಿದೆ ರಾಜ್ಯ ಬಿಜೆಪಿ ಸರ್ಕಾರ.
#HarGharTiranga
#AmritMahotsav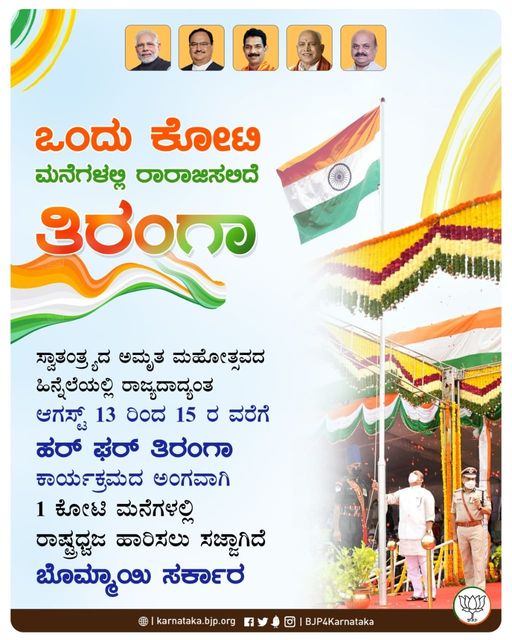 This year, when we are marking Azadi Ka Amrit Mahotsav, let us strengthen the Har Ghar Tiranga Movement. Hoist the Tricolour or display it in your homes between 13th and 15th August. This movement will deepen our connect with the national flag. https://t.co/w36PqW4YV3

— Narendra Modi (@narendramodi) July 22, 2022
About
The Indian National Flag is a symbol of national pride for the entire nation. To further honor our flag, the Hon'ble Home Minister who oversees all efforts under Azadi Ka Amrit Mahotsav has approved the program of 'Har Ghar Tiranga'. It envisages inspiring Indians everywhere to hoist the national flag at their home.
Our relationship with the flag has always been more formal and institutional than personal. Bringing the flag home collectively as a nation in the 75th year of independence thus becomes symbolic of not only an act of personal connection to the Tiranga but also an embodiment of our commitment to nation-building, The idea behind the initiative is to invoke the feeling of patriotism in the hearts of the people and promote awareness about our national flag.
India Completes 2 Billion COVID-19 Doses, 200 Crore Vaccines Completed
---
Indian Embassy in Kuwait, Nomination for ICCR Annapurna Certificate 2022
---
2000 Indian nurses expected in Kuwait soon
---
Free Precaution COVID-19 Dose for All Adults in India
---
New Parliament House by the Prime Minister Shri Narendra Modi
iiQ8 News