Civil ID must to travel back to Kuwait after vacation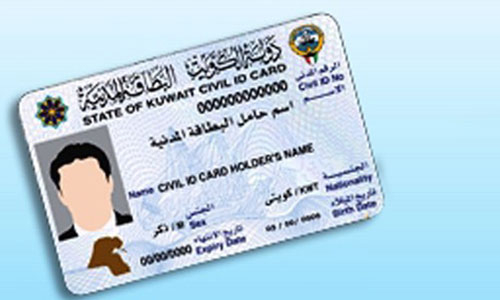 Once the new rule regarding the removal of residency stickers from passports is implemented, expatriates need to carry their Civil ID while coming back to Kuwait after their vacation outside Kuwait. Authorities are coordinating with Foreign ministry is preparing the plan of implementing the decision in coordination with Kuwait Embassy in other countries.
According to sources, expats who lost their civil IDs in their countries, while on vacation, need to contact the Kuwait Embassy in their respective country with a lost certificate from that country. Kuwait embassy will write to the Kuwaiti interior ministry to enquire about the expat's data and their residency, and when confirmed, they will be given an entry paper from the embassy with the required information, using which the expatriate can travel back to Kuwait.
According to informed sources, the new civil ID will contain extra information related to the residency including the Passport number.
---
Replacing residency stickers with Civil ID card from March 10th for Article 20 holders; Civil ID card must while travelling
---
The Ministry of the Interior announced the cancellation of the residence stickers on Passport and replacing it with the Civil ID card issued by the Public Authority for Civil Information as proof of residence of the expatriates in Kuwait will start from March 10th.
In a press conference held today, Brigadier Abdul Qader Al-Shaaban said that the decision is based on the Ministerial Resolution No. 135 of 2019 on the amendment of Ministerial Resolution No. 1987/640 of the Executive Regulations of the Law on the Residence of Foreigners.
He explained that, in the first stage, this decision will be applied on domestic workers under article 20 and in the second stage will be applied to all.
The foreigner who holds a normal residence will not be allowed to enter or leave Kuwait unless he holds a valid passport and a civil card issued by the Public Authority for Civil Information. However, those who stamped their residency before March 10th, are exempted from the requirement of presenting Civil ID card, provided that their residence is valid for entry into the country.
During the press briefing, Director General of PACI Musaed Al-Asousi explained that expatriates who need to renew their residence permits must visit the website
of Ministry of Interior and register their data including their telephone number and health insurance details. In case of any problems in the renewal of their residence permits, they will receive an SMS with the request to visit PACI office.
The transaction for renewal of a residence permit can be carried out two months prior to the expiry of the residence permit.
---
https://www.indianinq8.com/new-paci-civil-id-office-fahaheel-collection-center-JobsinQ8-news/
---