Alfa Romeo awaits Al Mulla Exchange Online customers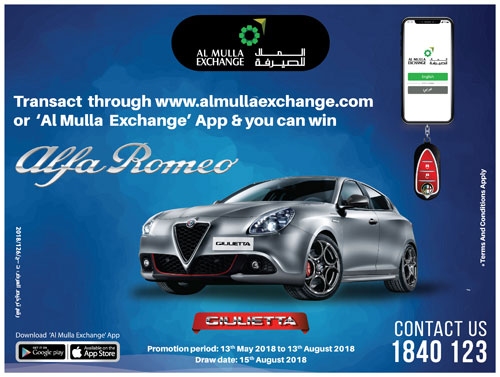 Al Mulla Exchange continues to wow customers with their amazing and different marketing promotions. Starting from May 13, 2018, customers using the online and App portals of Al Mulla Exchange stand a chance to win Alfa Romeo, a name synonymous for luxury and style. 
Speaking about the promotion, R. Shankar, General Manager of Al Mulla Exchange, "Al Mulla Exchange believes in providing the best for our customers. So when we thought about running a marketing promotion for our newly revamped online as well as the newly launched Remittance Application, we wanted to have something that will not only solicit pride but also a very positive vibe. The Alfa Romeo seemed to be the perfect fit for this. And of course we are getting a very enthusiastic response to the promotion. As the adage goes, more the number of transactions more the chances to win."
As one of the pioneers in remittance industry, Al Mulla Exchange set a new landmark in the remittance landmark by being the first in Kuwait to launch a Remittance Application. Within a short span of time, the App has soared to be one of the most downloaded App on the Android and iOS platforms. The application which is very simple to use has been interlaced with a very interactive user interface as well as easy maneuverability.
The online platform, www.almullaexchange.com, which was launched a couple of years back also went through a major revamp and is in sync with the App as well. The online platforms therefore boasts a very elegant look and feel with robust security features. With this, customers will be able to transact even when they are travelling and anywhere across the globe.
Shankar added, "Not only do we have a great online platform and App with the best features available globally, the exchange rates that are given here are un-matchable. The customers are thus being provided an experience par excellence." The Alfa Romeo promotion will run from May 13, 2018 up until Aug 13, 2018.
---
Website : https://www.indianinq8.com
Facebook : https://www.facebook.com/IndianInQ8
Twitter : https://twitter.com/IndianInQ8
Linkedin : https://www.linkedin.com
Google + : https://plus.google.com/110228925318717528125
---